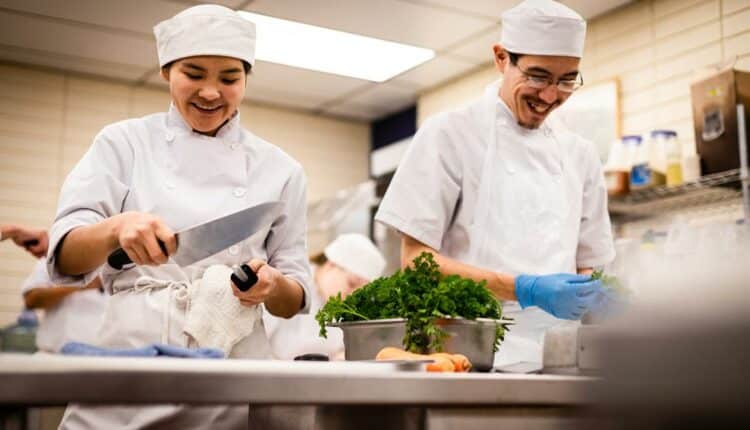 Full-Time Cook Job Vacancy in Illinois, USA
Morrison Healthcare
We are currently hiring for a full-time position as a COOK.
Location: Hospital Sisters of St. Francis – 4849 Laverna Rd Springfield, IL 62707 Not accepted: Online applications only
Schedule: Full-time schedule. 10:00 AM to 6:30 PM 5 days per week, plus every weekend. More details upon interview.
Requirements: Experience with food service and/or cooking is preferred.
Start Pay: $16.50 an Hour

We make it easy to apply! You can apply for this job by text messaging. Text JOB To 75000 Search Requisition ID Number 1143809.

This program allows you to apply for jobs at Compass Group using an AI recruitment assistant. The frequency of messages can vary. Data and message rates may apply. To opt out, text STOP or HELP to get help. Terms and conditions: http://olivia.paradox.ai/moSkg
You can make a difference in people's lives, the lives of your community, and your own. Morrison Healthcare is a company that fosters a culture of possibility. You will be able to transform healthcare by joining our team.
Have a look at The Power of Food!

Morrison Healthcare, a national food and nutrition service company that is exclusively focused on serving over 806 hospitals and other healthcare providers, is a leader in the industry. Morrison Healthcare uses the Power of Food to create customized dining experiences for its clients and in their cafes. This helps to further the healing and healthful goals of its clients. Morrison has been providing healthcare services to some of the country's most prominent health systems for over 65 years. It leverages its culinary, operational, and nutritional expertise to ensure consistency and transform the healthcare experience. Morrison was named one of Modern Healthcare's Top Places to Work in 2020, for the 8th consecutive time. Training Magazine also named Morrison a Top 125 Training Organization in 2020, for the 9th consecutive time. Glassdoor named Morrison one of the 2018 Best Places To Work, and CEO Tim Pierce was named a Most Admired CEO in 2019. Morrison is part of Compass One Healthcare, a Compass Group operating division. It employs more than 1,200 registered dietitians and 300 executive chefs. There are also 21,000 food service staff members.
Summary of the Job

Summary: Prepares food according to applicable federal, state, and corporate standards, guidelines, and regulations. Assures that food service is high quality at all times.
Essential Duties and Responsibilities
Produces high-quality food according to standard recipes and instructions in order to meet production, delivery, and service schedules.
Prepares and serves meals, or delivers them, by following outlined guidelines, using the right portioning and meeting established standards. Food is always at the right temperature, and tastes good. All prepared foods are tasted.
During service, follows established ticket collection procedures. Responsible for the collection of records from areas that were used during service periods.
After cooking and serving, cleans the kitchen to ensure cleanliness. Safe food handling procedures are followed to dispose of excess food.
Maintains neat and clean refrigerators and storage areas. Assures food and supplies are stored according to standards
Assists in the operation and maintenance of kitchen equipment.
Assists with production planning, recordkeeping and reporting when required.
Assists with the ordering and receipt of all food and other supplies, as needed.
Notify the supervisor immediately if there are any maintenance issues, equipment malfunctions or accidents.
Participates in safety and in-service meetings.
Establishes and maintains positive working relationships with customers, coworkers, administrators, and managers.
Safely performs work while maintaining a safe and clean environment.
Other duties may be assigned.

Morrison Healthcare Associates Enjoy Many Amazing Benefits

Associates can enjoy the following benefits in both full-time and part-time positions:
Retirement Plan
Associate Shopping Program
Health and Wellness Programs
Discount Marketplace
Protection from Identity Theft
Pet Insurance
Voluntary benefits include Critical Illness Insurance and Accident Insurance. Legal Services and Choice Auto and Home Program.

Associates also get the following benefits from full-time jobs:
Medical
Dental
Vision
Life Insurance/AD
Disability Insurance
Commuter Benefits
Employee Assistance Program
Flexible Spending Accounts (FSAs).

Compass Group: We are the leaders in the food service sector

Compass Group is an equal opportunity employer. Compass Group is committed to fair treatment of all applicants and Associates based on their achievements, abilities, and experiences without regard to race or national origin.
Qualified candidates must have the ability to perform the essential functions of the position with or without reasonable accommodation. This job posting does not include all the essential responsibilities, skills and tasks required for this position. This job posting is meant to accurately reflect the posted position. However, the Company may modify or alter the essential functions of this job to meet business needs. *Los Angeles applicants – Compass Group will consider employment-qualified applicants with criminal records in accordance with the Los Angeles Fair Chance Initiative for Hiring. (Ban the Box ordinance).
Req ID: 1143809
Job postings offer many benefits
Insurance for medical expenses
Dental Insurance
Vision insurance
Commuter benefits
Insurance for the disabled
---
Post Title
: Full-Time Cook Job Vacancy in Illinois, USA
Posted Date
: January 10, 2023
Author
: Jobs in USA