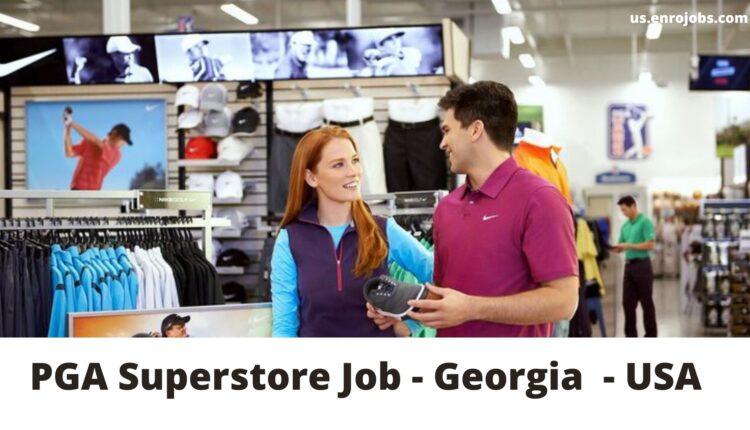 PGA Superstore Job – Store Manager – Latest Jobs In America
PGA Superstore Job Immediate Hiring For Store Manager
PGA Superstore Job, We are looking for a professional and customer service-oriented store manager to oversee daily operations at our store. As the store manager, you will supervise the operational and organizational standards of the store. Your duties will include undertaking administrative tasks, monitoring inventory levels, and developing business strategies.
The ideal candidate must be able to improve customer satisfaction and meet monthly sales goals. In addition to being an excellent communicator, you should also demonstrate outstanding leadership and interpersonal skills.
PGA Superstore Job Job Details
| | |
| --- | --- |
| Hiring Organization | PGA Superstore |
| Post Name | Store Manager |
| Qualification | Any Graduate |
| Industry | Private |
| Employment Type | Full Time |
| Work Hours | 8 Hours |
| Salary | USD 20 To USD 25 Per Hour |
| Location | Roswell, Georgia, United States 30009 |
About Organization
Only we have the knowledge, passion, depth of assortment and experience to inspire golfers and tennis players everywhere to play better, have more fun and grow the game. As a part of the Blank Family of Businesses, we observe our Core Values as an important part of how we operate each day.
We invite you to learn more about the Blank Family of Businesses and our Core Values and discover how we are giving back to our communities. We love this game and we want to share that passion to help inspire a new generation of golfers and help lay the foundation for a brighter future.
That's why we work closely with the local chapter of The First Tee in each of our stores. Along with our efforts with The First Tee, we hope to serve as a responsible and inspiring member of our communities through our charitable tournament, grant-giving, and community day programs.
We honor the tradition of the great game we love.We are proud to be a part of the evolution of these sports.We are hopeful to imagine the positive impact that golf and tennis will have on so many in the years to come.
Job Responsibilities For PGA Superstore Job
Deliver excellent service to ensure high levels of customer satisfaction.
Motivate the sales team to meet sales objectives by training and mentoring staff.
Create business strategies to attract new customers, expand store traffic, and enhance profitability.
Hire, train, and oversee new staff.
Respond to customer complaints and concerns in a professional manner.
Ensure store compliance with health and safety regulations.
Develop and arrange promotional material and in-store displays.
Prepare detailed reports on buying trends, customer requirements, and profits.
Undertake store administration duties such as managing store budgets and updating financial records.
Monitor inventory levels and order new items.
Job Skills For PGA Superstore Job
Strong leadership and customer management abilities.
Customer service-oriented with in-depth knowledge of basic business management processes.
Excellent communication and interpersonal skills.
Safety Tips
Research the job and the company details on the internet before you apply for any job
Note: There are no shortcuts to success in a career you should struggle a lot to
Beware of Career Consulting scams and Recruiting scams. If any HR is asking for money and assuring you to get a job then we will suggest not to go with that instead move out and look for another company job.
Read the Safety Tips properly before applying for PGA Superstore Job.
---
Post Title
: PGA Superstore Job – Store Manager – Latest Jobs In America
Posted Date
: March 12, 2022
Author
: US Jobs