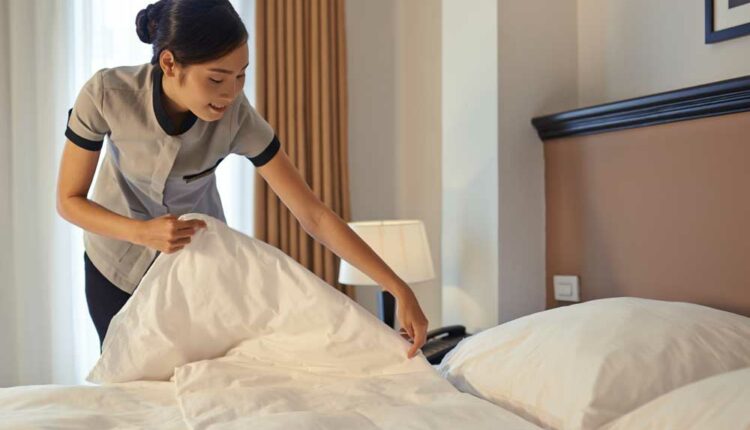 Housekeeper Job Vacancy In Colorado, USA
Who are We? 
Healthcare Services Group (HCSG), a trusted partner, manages housekeeping, laundry and nutrition services in the healthcare market. We have been providing essential services to thousands in healthcare communities throughout the country for over 45 years. We are one of America's most trusted companies. Our reputation for treating customers and employees well is reflected in our commitment to excellence through a constant and growing focus on training and development at all levels.
Our Company Values & Purpose
Our purpose is to foster fulfillment in communities.
Our Values, Integrity and Collaboration, Empowerment and Passion, as well as our Grit (aka Grit), influence the decisions of our employees and the actions they take outside and inside the workplace.
Who are you?
You are ambitious and driven. You are open to collaboration with others and don't mind working hard to achieve your goals. You are driven to provide the best customer and resident experience possible every day.
What we offer
HCSG provides a wide range of benefits that support the well-being and health of our associates. Our mission is to improve the quality of life for our associates and their families by promoting welfare and good health.
Benefits: Free Telemedicine and Prescription Discount Program, along with a variety of medical, vision, or other supplemental health plans. *Availability is dependent on the state.
Training – We are serious about the education and development of our associates. Our promotions-from-within philosophy opens the door to a stimulating and robust career with HCSG!
Employee Assistance Programs – Free access for employees and their family members for financial, health, and family services that support their welfare, mental, and physical well-being.
Employee Recognition Programs – We aim to recognize employees who live up to our Company Purpose, and are committed #GoingBeyond to our Client, Resident and Employee Communities.
Going Beyond Assistance Fund – A 501(c),(3) non-profit created by HCSG for charitable employer-sponsored disaster aid organization to provide disaster, hardship and emergency assistance to HCSG employees, their dependents, or families.
For eligible employees, paid vacations and holidays
Employee Stock Purchase Plan – Investment opportunity for all eligible employees after two consecutive years of service.
Nationwide Opportunities – Transfers are available nationwide. This is a great opportunity for military personnel and their families!
Keep You Safe
Our Company is committed to the safety and well-being of all employees as well as residents of the communities we serve.
Personal Protective Equipment (PPE) – All employees will receive and be required to use appropriate PPE at all times.
COVID-19 Vaccination- All employees will have to adhere to all policies as required by State, Local and/or Our Customers
Why HCSG
HCSG offers a supportive, collaborative, dedicated, stimulating and structured environment to enable you to succeed in your community service. There are exciting opportunities available for all stages of one's professional career. HCSG is dedicated to helping you succeed by providing leadership and growth opportunities.
Summary of Position
Housekeeping – Perform cleaning and housekeeping duties, such as dusting and damp mopping floors in designated areas. Sanitize bathrooms including tubs, sinks, floors and commodes. Daily cleaning and sanitizing of patient rooms, sitting rooms, dining room and other furniture. Assign all related tasks, including the removal and disposal of trash.
Safety – Use protective gear for all functions. Assure safe mixing of cleaning solutions and adherence to safety precautions. Notifying supervisor promptly of any equipment/cleaning product malfunctions. You must ensure that the quality, safety and standards are maintained. To ensure a clean environment, follow infection control policies and procedures. Follow proper reporting, isolation, and handwashing procedures/techniques.
Punctuality: Consistent attendance and punctual departure. Respecting the schedule and completing cleaning areas as assigned. Respond promptly and appropriately to the paging system
Customer Experience – Positively represent HCSG through following instructions, being polite, and cooperating with supervisors, co-workers and clients.
Resident Experience – Positive, friendly, and tactful interactions between residents, staff, guests, and facility visitors.
Qualifications
Positivity and the ability to listen and follow written instructions. Daily routines and repetitive tasks are examples of a positive attitude.
Once you have completed all necessary training, use your leadership skills to take on all responsibilities and to do so without any supervision.
Preferably, a high school diploma or an equivalent is required.
To communicate with others effectively, you must be able speak, read, and write English.
You must be able and willing to work as scheduled.
Conformance with COVID-19 Vaccination Policy, as required by State or Local and/or Customers
You must be able lift/carry 50 pounds and push/pull 50 pounds.
You must be able perform repetitive, routine tasks consistently.
You must be able and willing to work with food and cleaning products.
You must live within the service area.
HCSG is proud that it is an equal opportunity employer. This includes applicants and employees regardless of race, color or religion. HCSG adheres to all applicable federal and state laws that prohibit discrimination in any location we operate.HCSG is committed in fostering and supporting a positive company culture that allows employees to be their best to help our residents and clients. All employees should feel safe and respected.
Job postings offer many benefits
Insurance for medical expenses
---
Post Title
: Housekeeper Job Vacancy In Colorado, USA
Posted Date
: February 7, 2023
Author
: Jobs in USA