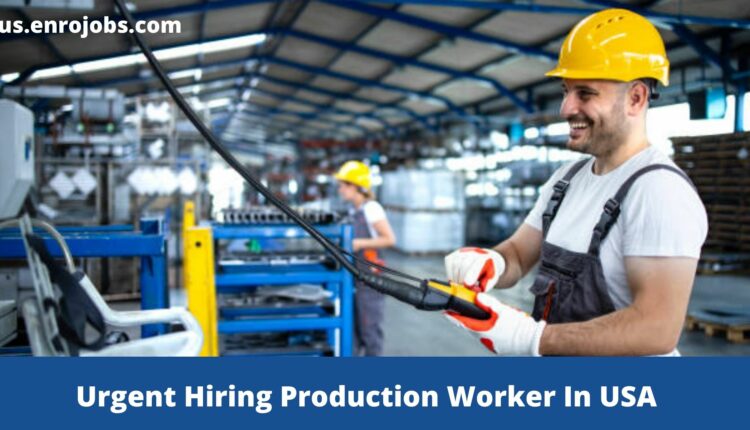 Urgent Hiring Production Worker In USA – America
Job Description-Urgent Hiring Production Worker
Urgent Hiring Production Worker. We are hiring a remarkable Production Worker to join our stellar team at MAUSER in Valparaiso, IN.
Growing your career as a Full Time Production Worker is a great opportunity to develop excellent skills.
If you are strong in people management, cooperation and have the right mindset for the job, then apply for the position of Production Worker at MAUSER today!


Job Snapshot
Employee Type:
Full-Time
Location:
Valparaiso, IN
Job Type:
Manufacturing
Experience:
Not Specified
Date Posted:
5/10/2022
Job Description
Mauser Packaging Solutions is a global leader in solutions and services across the packaging lifecycle, providing packaging worldwide to companies in industries from food, personal care, paints and chemicals.
Position Summary:
This position supports plant production needs for daily operation, changeovers, and outbound shipments. The schedule is 12 hours, on a 2-2-3 schedule. Day shift works 7:00 a.m. to 7:00 p.m. Night shift works 7:00 p.m. to 7:00 a.m. and offers $1.00 per hour shift premium. Overtime is available. Production Workers will install plastic or metal handles in pails and gaskets, caps, vents, and plugs in covers according to customer requirements. Responsible for completing all associated paperwork. Perform visual inspection of molded plastic prior to storage in the warehouse.
Responsibilities:
Performs all assignments in accordance with safety specifications, instructions, and requirements
Demonstrates ability to meet production standards on specific assignments within required time
Maintains good housekeeping and clean work areas in assigned space
Reports all production waste to Production Lead or Supervisor
Responsible for safety and quality throughout production
Responsible for notifying a Production Lead or Supervisor when they step off the line to ensure safety and quality standards are maintained
Performs other duties as required by Supervisor or Manager
Follows all company policies and procedures
Job Requirements–Urgent Hiring Production Worker
Requirements:
High School diploma or equivalent
Experience working in a Manufacturing Environment
Ability to work in a fast paced environment
Understand plant safety guidelines and pass all required safety training
Must be able to understand verbal and written instructions
Troubleshoot problems and report issues
Must work well in team environment
Physical Requirements:
Ability to be on feet for 12 hours per shift (Production employees work 12 hour shifts)
Use of hands and fingers to perform job function
Ability to stoop, kneel, bend and climb
Ability to lift up to 35 lbs
Mauser Packaging Solutions is an equal opportunity employer. All qualified applicants will receive consideration for employment without regard to race, color, religion, sex, sexual orientation, gender identity, national origin, age, protected veteran status, or disability status.

This position is eligible for the Mauser Packaging Solutions new hire retention program. This program aims to show of appreciation for the talents and expertise that the you will provide to the Mauser Packaging Solutions.
Bonus structure:
Upon 180 of active employment, you will be eligible for a $750.00 bonus.
Payout will occur in three (3) installments.
$250.00 payable after 30 days of employment
$250.00 payable after 90 days of employment
$250.00 payable after 180 days of employment

Company Benefits:
● Company offers great benefits
● Company offers career progression opportunities
● Attractive package
Apply Now…
More USA Opportunities…
---
Post Title
: Urgent Hiring Production Worker In USA – America
Posted Date
: May 13, 2022
Author
: US Jobs