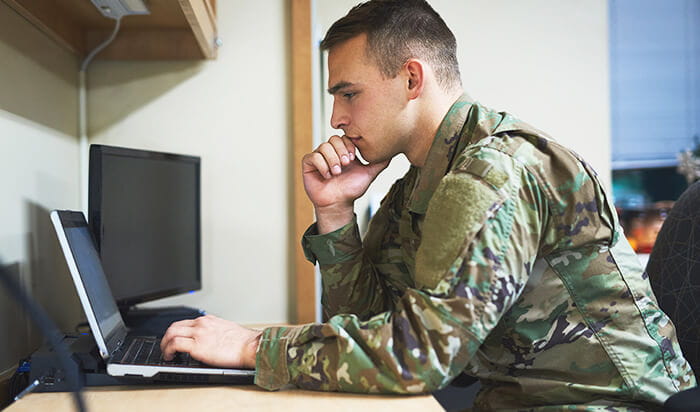 US Veterans Social Worker Job Vacancy in New Jersey
Social Worker Job Duties
Social Worker Job: The primary purpose of the PCMHI SUDs Social Worker is to provide immediate access to complete clinical assessments and state-of-the-art substance abuse/recovery-oriented treatment/services for Veterans with alcohol or substance dependence.
| | |
| --- | --- |
| Title | Social Worker |
| Hiring Organization | US Veterans Health Administration |
| Place | New Jersey |
| Date | 2022-07-05 |
| Base Salary | 5300 – 8340 USD Per Month |
Some duties may include, but not be limited to:
Participate in PACT meetings, huddles, and/or other functions to advocate and champion SUD-specific considerations in primary care
Encourage Veterans suffering from substance abuse to engage in care.
In the primary care setting, increase awareness and understanding of the process of SUD recovery (e.g. relapse/remission cycles chronicity readiness for change harm reduction, etc.).
Assist PACT with streamlining standard screening procedures (e.g. AUD-C) as well as referral (e.g. same day warm handoffs).
For the PACT population, proactive patient identification and outreach activities regarding substance misuse should be used
As a team subject matter expert and point of contact for SUD concerns within PACT with an emphasis on Opiate Use Disorders and Alcohol Use Disorders, serve as
Training and education for PACT on SUD care (e.g. brief interventions, motivational interviewing. harm reduction. biopsychosocial factors.
Consult with primary care about the treatment of SUD.
Support and/or provide PCMHI Collaborative Care Management to Veterans with substance misuse issues
Provide SUD-specific, short, evidence-based interventions for individuals or groups. These interventions can be used in conjunction with PCPs and the PACT setting.
Telehealth modalities can be used to provide SUD-specific service to patients in PACT from locations that are more remote or who otherwise do not have access to them. Also, it is possible to cross-coverage with colleagues as needed.
Functional Assessments To establish facts about the Veteran's current situation, the Social Worker interviews family members and/or significant others. The emphasis is on the primary concerns of veterans and/or their families. The Social Worker completes a functional assessment according to the PCMHI model of care in collaboration with the Veteran, their family members, and/or significant others.
Goal setting/Planning for treatment – The expanded/integrated PCMHI Social Worker functions as part of the PACT. To extend the current treatment plan, the PCP will add agreed-upon goals and treatment interventions.
Provider of services in the field of medicine SUDs are provided by the Social Worker. These sessions last between 4 and 6 minutes each, with at least 75% being under 30 minutes (i.e. Individual psychotherapy and marital/family counseling are provided. Care management services include (i.e. Education, activation, and monitoring of progress over time according to established protocols, scripts, and assessment tools. Psycho-educational services for Veterans, their families, and/or significant others in support of the Veteran's treatment goals.
Documentation The Social Worker records all visits to the Veteran, family member, and/or significant others electronically via the Computerized Patient Record System.
The Social Worker may also clinically oversee social work students or entry-level Social Workers if they meet the certification/supervision requirements. Clinical oversight involves co-signing progress notes.
Referrals – Social workers are familiar with the VA and community service systems, as well as the processes for accessing them. This knowledge is combined with the Social Worker's clinical training, insight, and experience. They are able to interpret data and determine viable treatment options.
Advocacy Social workers are advocates for Veterans in the VA system, hospitals, and other community services. The Social Worker encourages Veterans to advocate for themselves when it is possible and appropriate. This fosters a sense of independence, empowerment, and assertiveness.
Interdisciplinarity Collaboration The Social Worker is part of the treatment team and attends weekly rounds, community meetings, family conferences, and other activities as necessary and appropriate for the role of a social worker.
Administrative Responsibilities All administrative and programmatic meetings are attended by the Social Worker. Other duties may be performed as required.
Work schedule : Monday-Friday, 8:00am – 4:30pm
Telework :
Virtual: This is not a virtual job.
# Functional Statement : PD25335-F
Relocation/Recruitment Incentives :
Permanent Change of Station (PCS). Not Authorized
Financial Disclosure Report: Not necessary
Requirements For Social Worker Job
Conditions for Employment
To apply for this job, you must be a U.S. Citizen.
For males born after December 31, 1959, Selective Service Registration must be completed.
Proficiency in English spoken and written is required
A probationary period may be necessary.
Subject to background/security investigations
Only selected applicants will need to complete an onboarding process online.
The pre-employment physical exam must be passed.
All Department of Veterans Affairs Health Care Personnel must participate in the seasonal influenza vaccine program.
All Veterans Health Administration Health Care Personnel must participate in the Coronavirus Disease 2019 (COVID-19), vaccination program. See "Additional information" below for more details.
Qualifications For Social Worker Job
Applicants pending the completion of education or certification/licensure requirements may be referred and tentatively selected but may not be hired until all requirements are met.
Social Worker Job Basic Requirements :
Citizenship. To be a citizen of the United States. Non-citizens can be appointed when qualified citizens are not available in accordance with chapter 3, section A paragraph 3g of this part.
Education. Hold a master's in social work from a school that is fully accredited by Council on Social Work Education. Candidates from schools of social work cannot meet this requirement until the School of Social Work has been fully accredited. The master's degree may not be replaced by a doctoral degree. Verification of the degree can be made by going to http://www.cswe.org/Accreditation to verify that the social work degree meets the accreditation standards for a master of social work.
Licensure. Social worker positions in the GS-0185 series in VHA require that individuals are licensed or certified by a state in order to practice independently at the master's level. Current state requirements may be found by going to http://vaww.va.gov/OHRM/T38Hybrid/.

Failure to obtain a license or certification. Social workers must be actively seeking state licensure and certification requirements starting at the date of their appointment. Refusal to obtain licensure or certification within the time limit will lead to the removal of the GS-0185 social workers series and possible termination of employment.
The loss of licensure or certification. Social workers who have been licensed or certified must keep a valid and complete independent license or certification in order to continue being qualified for employment. The loss of licensure/certification will cause the social worker to be removed from the GS-0185 series. This could lead to termination of employment.

Physical Requirements. See VA Directive and Handbook 519, Employee Occupational Health Services.
English Language Proficiency. Candidates need to be fluent in English spoken and written to be authorized by 38 U.S.C. SS 7403(f).
May be eligible based upon being covered under the Grandfathering Provision, as described in the VA Qualification Standard. This applies only to current VHA employees in this occupation who meet the criteria.
Creditable Experience. The candidate must be familiar with current social work practices. The experience must be relevant to current social work practice in order to be considered creditable. Experience or education must have been obtained after a Master's degree in Social Work (MSW). This requirement requires that the experience and education satisfy this requirement. It must also be active professional practice.
Qualitative Experience Only experience that is based on a master's in social work is considered creditable. It must also include work as a professional Social Worker directly related to the job to be filled. Qualifying experience must be comparable to the previous level of social work experience.
Part-Time Experience. Part-time experience can be considered creditable if it is related to a full-time workweek. One week of full-time credit equals two weeks of part-time work.
Fellowships and Post-Graduate Training Post-graduate and fellowship programs typically focus on a specific area of clinical practice. Creditable experience can be replaced by training as a fellow/post-graduate on a year-for-year basis.
Practice in a VA Setting VHA practicum experiences cannot be substituted for real experience. The practicum (field placements) must be completed before graduation with a master's in social work.
Grade Determinations When determining the grade of candidates, it is important to consider the following criteria:
Social worker, GS-9
(1) Education, Experience, and Licensure None other than the essential requirements.
(2) Demonstrates knowledge, skills, and abilities. The candidate must also have the above experience.
(a) Ability and willingness to use counseling skills to help Veterans and their families.
(b) Ability to assess the psychosocial functioning of Veterans and their families, to create and implement a treatment program, which identifies the Veterans' problems, strengths and weaknesses, as well as the assistance required.
(c) Ability and willingness to use treatment methods in order to work with families, individuals, or groups to reach treatment goals. This requires the ability to use crisis intervention, problem-solving or supportive techniques.
(d) Ability to establish and maintain effective working relations and communicate with clients and staff.
(e) Basic knowledge of mental and medical health diagnosis, disabilities, treatment procedures, and other aspects. This includes chronic, acute, and traumatic injuries, common medications, their effects/side effects, and medical terminology.
Social Worker, Grade 11
(1) Experience and licensure To be eligible for the GS-11 grade, you must have at least one year of post-MSW experience in a field related to health care or social work. (VA or not VA experience).
NOTE: Please refer to paragraph 3c for appointment licensure and certification at this level. OR
(2) Education. A doctoral degree in sociology from a school may be substituted for one year of clinical social work experience.
(3) Demonstrated knowledge, skills, and abilities. I Candidates must have the following KSAs in addition to the above experience:
(a) Knowledge of the community resources and how to make referrals to other agencies.
(b) Ability to conduct psychosocial assessments and provide treatment for a variety of people from diverse socio-economic, cultural and educational backgrounds.
(c) Knowledge about medical and mental health conditions, disabilities and treatment methods (i.e. To create a treatment plan, you will need to know the effects of common medications, acute, chronic, and traumatic injuries, as well as medical terminology.
(d) Ability to independently implement different treatment options in order to treat individuals, families, or groups that are suffering from a range of psychiatric and medical problems.
(e) The ability to consult with new social workers and social work graduate students about patients' psychosocial needs and the effects of psychosocial problems on treatment compliance and health care.
Prefer Experience: Preferential State Social Work License at Advanced Practice Level with experience with Dual Diagnosis populations
References: VA HANDBOOK 5005/120 Part II APPENDIXG39, September 10, 2019.
This vacancy has a full performance level of GS-11. This vacancy may allow applicants to be selected at a grade between GS-9 and GS-11.
Education
IMPORTANT A transcript (officially or unofficially) must accompany your application if your qualifications are based on education.

Note: Federal employment is only available to those who have received degrees or education from accredited schools, colleges, universities, or institutions. You can verify your education here: http://ope.ed.gov/accreditation/. To receive credit for foreign education, you will need to send a Certificate Of Foreign Equivalency along with your transcript. For further information, visit http://www.ed.gov/about/offices/list/ous/international/usnei/us/edlite-visitus-forrecog.html.
Additional information
You may also use this job announcement to fill other vacancies.

This is an exceptional service position and does not confer any competitive status.

VA encourages people with disabilities to apply. Title 38 covers health-related positions at VA, but they are not covered under the Schedule A excepted appointments authority.

VHA Directive 1193.01 requires that all VHA health care professionals (HCPs) must be fully vaccinated for COVID-19. However, there are certain accommodations required by law (e.g. religious, pregnancy, or medical). Remote workers who visit VHA locations only occasionally are not eligible for VHA HCPs. You will need to be fully vaccinated against COVID-19 before you can be hired. You will receive additional information from the agency about what documentation is required and how to request a reasonable accommodation.

For information on an Alternative Application, click the link below.
BenefitsThe U.S. government offers a wide range of benefits to employees who choose to work for it. Federal employees have access to many benefits designed to make their federal careers rewarding. Learn more about federal benefits. Check out our benefits type of job you have and the nature of your work depends on whether it is part-time, full-time, or intermittent. For more information about the benefits available, contact the agency.
---
Post Title
: US Veterans Social Worker Job Vacancy in New Jersey
Posted Date
: July 5, 2022
Author
: Jobs in USA