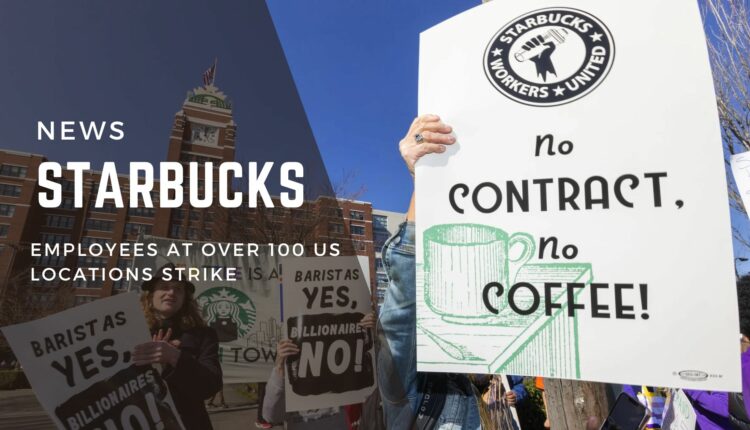 Starbucks employees at over 100 US locations strike before the shareholder meeting
Before the company's annual shareholder meeting on Wednesday, employees at more than 100 Starbucks locations around the US staged a walkout. In Seattle, they also protested in front of the company's headquarters.
The protests were in response to Starbucks' aggressive anti-union tactics against worker organizing, which have included accusations of firing several employees in retaliation for unionizing, intimidation, closing stores, withholding benefits, reducing schedules, and delaying the negotiation of a first union contract. All claims and complaints of labor law infractions against Starbucks have been refuted or denied.
More than 7,500 employees at more than 280 outlets in the US have won union elections, but since the union movement got off in early 2022 despite Starbucks' opposition, it has slowed significantly.
The moves take place one week before Howard Schultz, the former CEO, and chairman of Starbucks, is expected to testify before the US Senate's health, education, labor, and pensions (Help) committee over the company's anti-union practices.
"Baristas like myself at Starbucks is responsible for keeping our stores open. We make the lattes, recall the regular orders from our clients, wipe up messes, and frequently make their days better. "We are Starbucks' heart and soul," said Sarah Pappin, a Seattle-area Starbucks employee. "Starbucks should recognize our right to assemble and meet with us at the negotiating table rather than honoring the illegal former CEO who was determined to silence us. We deserve better because we are Starbucks.
Maria Flores, a three-year employee at Starbucks in Queens, New York, said, "While Starbucks celebrates their provenance and record earnings this week, my partners have to deal with the reality that we are being nickel-and-dimed to extract as much labor as inexpensively as possible."
---
Post Title
: Starbucks employees at over 100 US locations strike before the shareholder meeting
Posted Date
: March 24, 2023
Author
: USA Jobs