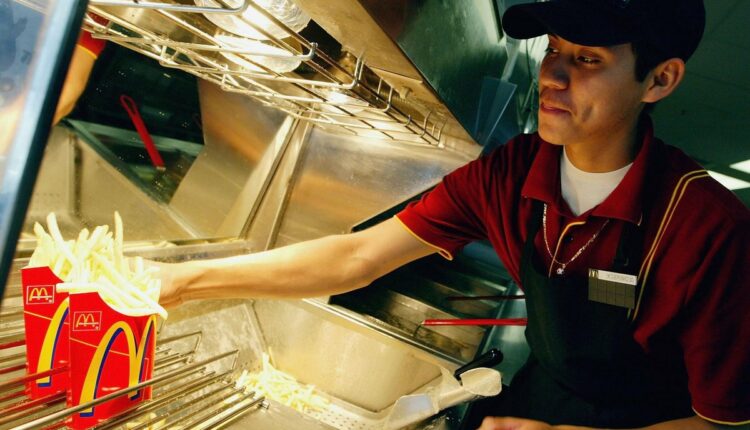 McDonald's Crew Member Job Vacancy in New York, USA
Full job description
McDonald's Crew Member Job: McDonald's values its employees. We provide opportunities for them to grow and succeed each day. We offer industry-leading education and top-notch training to employees so they can thrive no matter where they go. More than 80% are proud to be employed at McDonald's. They would also recommend our restaurants. Being a Crew Member at McDonald's offers more than a paycheck. It's an opportunity to learn life skills and grow personally. And for anyone willing to take advantage of these opportunities…we're committed to becoming America's Best First Job! The starting salary for our Team Member positions in NYC is $15 per hour.
| | |
| --- | --- |
| Title | McDonald's Crew Member |
| Hiring Organization | McDonald's |
| Place | New York |
| Date | 2022-07-30 |
| Base Salary | $15 an hour |
Requirements for McDonald's Crew Member Job
You've found the right job if you are looking for a part-time job that will support your full-time ambitions. Crew member opportunities are available at any time: breakfast, lunch and late nights, weekends, or anything in between.
A McDonald's crew job is a great way to grow. It also offers top-notch training and our Archways to Opportunity education programs, which offer English Language classes, upfront college tuition assistance, and high school completion courses. McDonald's is a great place to go, and you'll get the benefits that you need.
Responsibilities for McDonald's Crew Member Job
To ensure a positive customer experience, connect with them
Help customers place orders for their favorite McDonald's dishes
All McDonald's World Famous Foods can be prepared
To achieve daily goals and have fun, team up with Crew members and Managers.
Keep your restaurant looking amazing
You will need a positive attitude, and the ability to learn quickly and excel in a team environment. You'll learn the rest. We can help you find part-time or full-time job opportunities that fit your schedule. To work as a McDonald's Crew Member, you must be at least 16 years old.
Job Benefits
401(k), Plan
Competitive Wages
Flexible schedules
Student Tuition Assistance – Up to $2,500 per Year
Health, Dental, and Vision Insurance
PTO-Paid Time Off
Discounted Employee Meals
National Employee Discount
Recognition Program for Employees
Get discounts on everyday necessities, movies, and restaurants
Phone plans discounted*
A friendly work environment and growth opportunities
Celebrations and events for employees
*Through McDPerks
---
Post Title
: McDonald's Crew Member Job Vacancy in New York, USA
Posted Date
: July 30, 2022
Author
: Jobs in USA