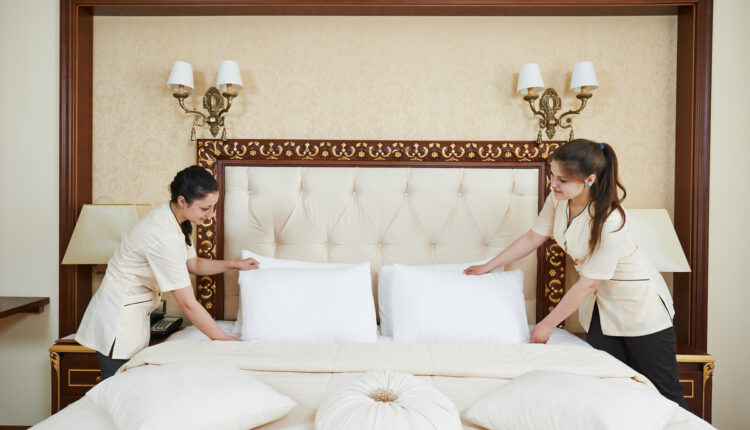 Room attendant Job Vacancy in Georgia, USA
Our housekeeping standards are very important to us. We are looking for a Room Attendant who is meticulous and passionate about perfection in order to ensure that every guest has a memorable experience.
Here's a little bit of your day-to-day life:
Each day is unique, but the majority of your days will be the same:
We make sure that every room is perfect for our guests.
We are here to help our guests, no matter if they have lost their toothbrushes or need to locate the elevator.
Keep your supervisor informed by notifying them about any problems or progress.
Controlling and monitoring supplies to minimize waste
Do your best to help guests find lost or misplaced items
Assisting with deep cleaning projects regularly

What we need from you:
This is a physically demanding job, and you will be standing most of the time. It's important to stay fit.
Lifting items up to 50 lbs / 23 kgs occasionally, or pushing/pulling heavy objects
Some activities may require you to bend or kneel in order to perform them.
Literacy skills: Reading, writing, and basic maths skills
Flexibility in shifts – You may need to work weekends, nights, and/or holidays.

What to expect from us
Our people have everything they need to be successful. We offer a competitive salary to reward your hard work, as well as a variety of benefits to make your work life enjoyable. These include a full uniform and impressive room discounts.
Our mission is to be inclusive and welcomes all people. We celebrate differences and encourage everyone to bring their whole selves into work. IHG Hotels & Resorts offers equal employment opportunities for applicants and employees, regardless of race, color, or religion. We encourage trust, support, and acceptance. We are open to all backgrounds, perspectives, and experiences.
IHG provides every member of the team with the space they need to feel at home, grow and make an impact in a supportive environment. We all know that in order to work well, you need to feel good – inside and out – so my well-being is a great way to do this.
Framework, we are committed to supporting your well-being in your work, life, and health.
Join us, and you'll be a part of our growing global family.
---
Post Title
: Room attendant Job Vacancy in Georgia, USA
Posted Date
: January 11, 2023
Author
: Jobs in USA