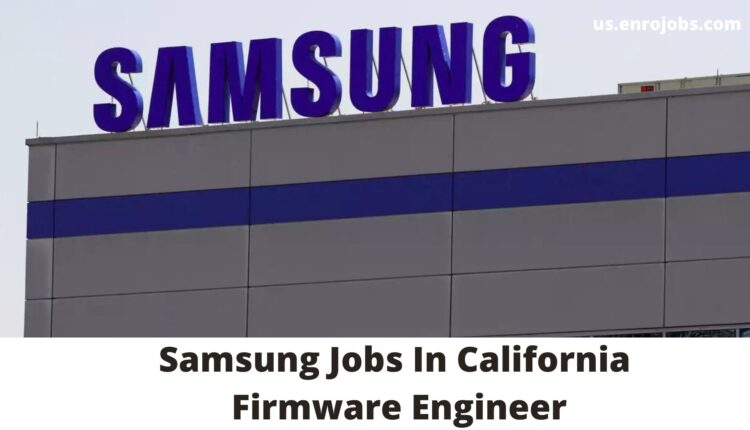 Samsung Jobs In California – Firmware Engineer – USA
Samsung Jobs In California – Firmware Engineer – USA
Samsung Jobs In California. Samsung Semiconductor Inc. (SSI) is advancing the world's technology. As a leader in Memory, System, LSI and LCD technologies, our US teams contribute to breakthroughs in 5G, SOC, memory and display. With our global perspective and diversity of thought, we proudly serve our customers around the world. We are looking for team members who share our commitment to learning and growth and excel when collaborating within and across teams.
SSI is headquartered in the heart of Silicon Valley and is a wholly-owned U.S. subsidiary of Samsung Electronics Co., Ltd. – the #1 employer in the world (Forbes, Oct 2020) and top patent-holder in the U.S. Want to advance the world's technology with us?
JOB TITLE/REQ ID/LOCATION: Samsung Jobs
Job Title: Firmware Engineer
Req ID: 40179
Location: San Jose
INSIDE THIS BUSINESS GROUP: Samsung Jobs
The Technology Enabling Development Lab (TED) Our core development focus is the host interface firmware layer that sits in the intersection of system software and flash management firmware. This key host interface firmware technology drives Samsung's breakthrough V-NAND technology and enables our customers to power performance-oriented, demanding, enterprise-class applications ranging from hyper-scale data centers, to big data processing, to software defined virtualized storage arrays and infrastructures.
OVERVIEW & IMPACT:
We are looking for a dynamic, self-motivated engineer to develop and support our cutting edge NVMe or SAS SSD products.
JOB RESPONSIBILITIES: Samsung Jobs
Analyze, debug, and resolve firmware issues observed at domestic and international customer sites as well as at local and overseas development centers.
Triage and root cause system, driver, and device interoperability issues at customer sites.
Spec gap analysis, firmware customization; collaborate with other engineering teams to analyze debug information and implement and deploy firmware patches.
Frequent travel and stay at domestic and international customer sites as well as overseas development centers for extended periods of time (can be up to multiple weeks at a time).
Assist customers by running or inspecting their tests at onsite locations.
QUALIFICATIONS & REQUIRED SKILLS: Samsung Jobs
BS in Computer/Electrical/Electronic Engineering or Computer Science required
Have hands on experience with drivers or firmware in a storage technology such as NVMe, PCIe, SAS/SATA, SCSI, or Fibre Channel for candidates with working experiences
Demonstrated ability to work as a team player, as part of a local and globally distributed team, for candidates with working experiences
Open to frequent and possible extended domestic and/or international travel.
Additionally, we look for the following universal qualities in all candidates:
Resourceful Achiever: self-motivated and proactive, you flex to try new approaches and creatively solve problems
Avid Learner: you thrive with challenges, seek continuous growth and improvement, and seek data to prove your hypotheses
Devoted Professional: you are diligent and deliberate in your work, leveraging your expertise to deliver results without ego
Thoughtful Collaborator: you build relationships across teams, offering help and welcoming ideas from others to drive work forward in an inclusive manner
PREFERRED SKILLS
BS in Computer/Electrical/Electronic Engineering or Computer Science required; 8 years of relevant experience in software or firmware or a MS in Computer/Electrical/Electronic Engineering or Computer Science with 5 years of relevant experience is preferred.
Familiar with one of the storage protocols, such as NVMe, SAS or SATA is a plus.
Hands on experience with UART/JTAG/ICE debuggers, firmware debugging and protocol analyzers, is preferred.
Strong experience in C/C++ for embedded systems is a plus.
Good oral and written skills for communication and documentation of technical information
Well versed working within a multinational environment and understands how to leverage cultural diversity.
Ability to work well with internal and external customers
COVID-19 POLICIES
Successful applicants must comply with company COVID-19 policies, which are subject to change in response to public health, regulatory and business circumstances
Current policies are subject only to emergency or legally-required exceptions and include: mandatory reporting of vaccination status; vaccination requirement for office access, external meetings and business travel; mask usage in office; and daily screening procedures at offices
Samsung Semiconductor Inc (SSI), an equal opportunity employer, is a world leader in Memory, System LSI, and LCD technologies. Headquartered in San Jose, California, SSI is a wholly-owned U.S. subsidiary of Samsung Electronics Co., Ltd.- one of the largest semiconductor manufacturer in the world and the industry's volume and technology leader in DRAM, NAND Flash, SSDs, mobile DRAM and graphics memory. It is one of the largest providers of system logic, imaging and LED lighting solutions, as well as providing advanced process design and manufacturing for fabless companies. Samsung Semiconductor, Inc. also has a research and innovation center with numerous labs providing product design and research in: logic, memory, image sensors, displays and mobile technologies. In addition, the company supports Samsung Display Company, the largest producer of LCD and OLED displays. SSI is an Equal Opportunity Employer. It is SSI's policy to comply with all applicable national, state and local laws pertaining to nondiscrimination and equal opportunity, and hiring decisions are made accordingly.
---
Post Title
: Samsung Jobs In California – Firmware Engineer – USA
Posted Date
: March 14, 2022
Author
: US Jobs